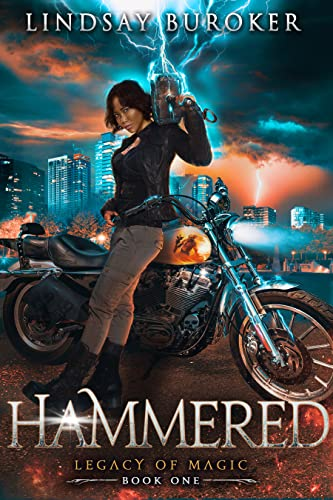 What did I just read? – Hammered
So, goal for the new year is to keep reading. Not hard for me to do, its my primary downtime activity, but also to get into the habit of writing.
So, recently, I was on Kindle Unlimited (KU for now on and forever) and I ran across the cover for Hammered by Lindsay Buroker.
Now, I am a fan of urban fantasy, I cannot get enough of it, and it's my primary read. So a couple of things:
Hammered was pretty good. The world was decently laid out, not an excessive amount of detail (Excuse you JRR), but enough to get a feel for how things worked. Generally speaking, Earth is a "wild world" with little magic, and thus seems to be a place where the various races from other worlds head to in order to vacation, hide out, or otherwise disappear from sight for a while.
Enter our protagonist, Matti, a half-dwarf carpenter who's main job is flipping houses and who's side gig is helping out her neighbors by smacking thugs with her mother's magic hammer.
Add in a whole bunch of weirdness with the Army, an Elf assassin and a pack of werewolves and Matti finds herself smacking heads and less time flipping her latest project house.
So, pretty good story. Some of the world building seemed missing, like you were supposed to already be somewhat familiar with it, but that's probably because this is the second series of stories set in the same world, Death before Dragons being the other series listed.